By Chuck McShane and Sam Tenenbaum
CoStar Analytics
Americans are leaving major cities in the Northeast, Midwest and West Coast for cities in the Southeast and Mountain West, new U.S. Census Bureau population estimates from 2021 show. And they're increasingly bypassing large cities altogether.
While lower immigration and birth rates suppressed overall population growth to a historic low of 0.1% in 2021, migration within the U.S. has accentuated the geographic shift of population to the Sun Belt.
With the prospect of slowing population growth across the nation, tracking outperforming locations is integral to any real estate strategy. Nine out of the top 10 fastest-growing metropolitan areas of more than 1 million people were in the Sun Belt, and eight of the 10 fastest-growing markets with 500,000 to 999,999 people were in the Southeast. Among the top 10 large metropolitan areas losing population, seven were either in California, the Northeast or Midwest.
Two Sun Belt metropolitan areas — Austin, Texas, and Raleigh, North Carolina — led the nation in population growth among regions with more than 1 million people. Both markets have increased their share of technology-related jobs in recent years, with Austin attracting several high-profile headquarter relocations from California, and Raleigh expanding its life sciences and pharmaceutical sector.
"Raleigh's diverse employment base, coupled with lower-than-average cost of living, has spurred population growth," said Ashley Rogers, CoStar's senior market analyst in Raleigh. "Like many rising tech markets, the Triangle has been bolstered by a strong institutional base, consisting of top university and healthcare systems, creating a talent-rich environment that has attracted tech giants such as Apple and Google."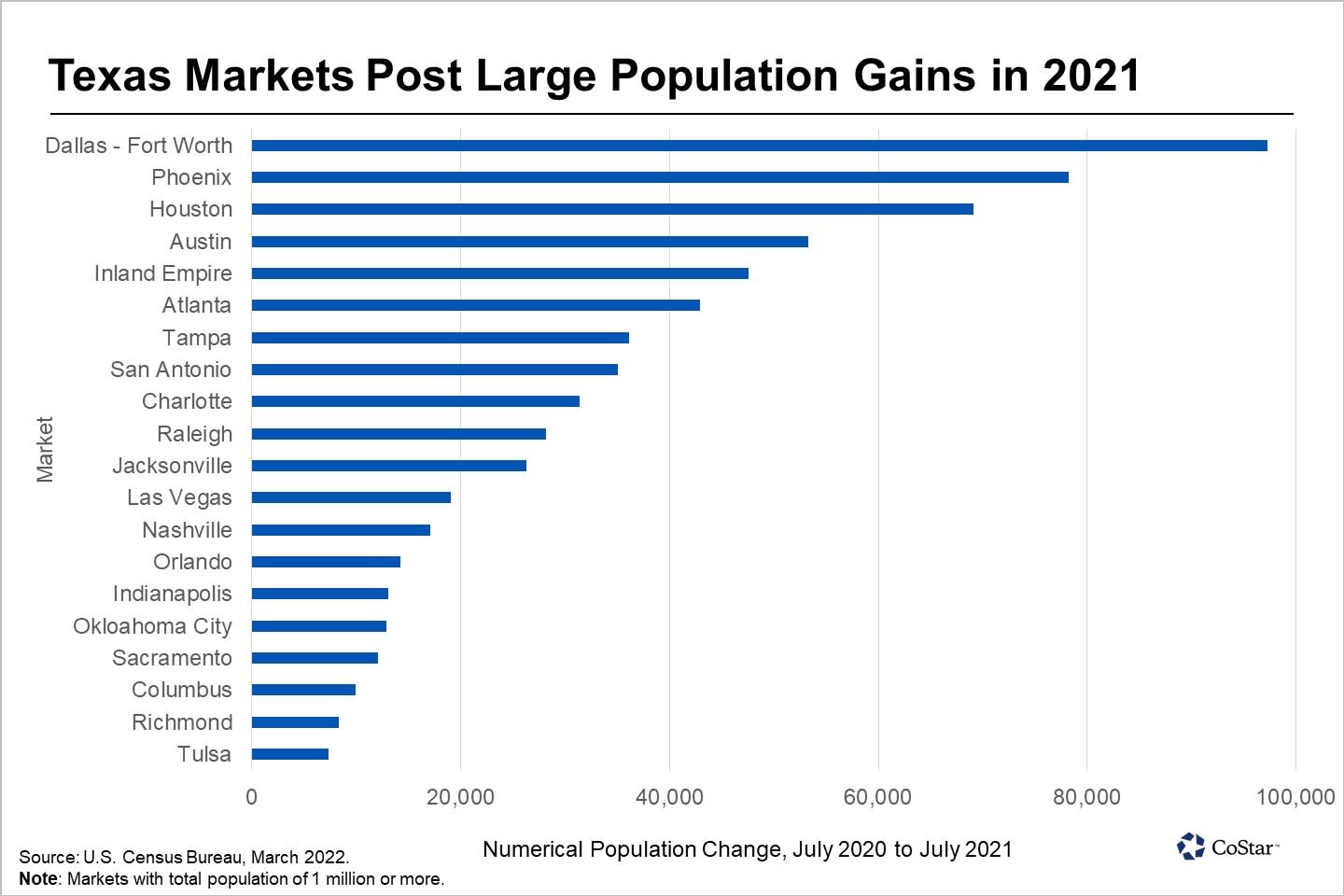 Three of the top four fastest-growing metropolitan areas in numerical terms were in Texas.
Continued job growth and relatively lower housing costs in large markets in the Sun Belt helped attract an increasing share of movers from out of state.
Net domestic migration in Raleigh, for example, grew from an annual average of 16,121 between 2010 and 2020 to 21,473 in 2021, accounting for 77% of total population growth. Austin also saw an increase in domestic migration, accompanied by declines in natural increase and international immigration. The share of population growth from domestic migration increased from an average of 59.8% in the 2010s to 75% in 2021.
Large markets that relied on immigration for growth through the 2010s saw population declines, even in the Southeast. In the 2010s, Miami averaged a net of 40,358 immigrant arrivals each year and grew an average of 0.8% annually, despite net negative domestic migration. In 2021, net immigration fell to around 14,000, and Miami's population declined by 1.1%.
The nation's largest cities continue to shed population. New York lost more than 325,000 people from July 2020 to July 2021, while Los Angeles, San Francisco and San Jose all saw their populations decline as well.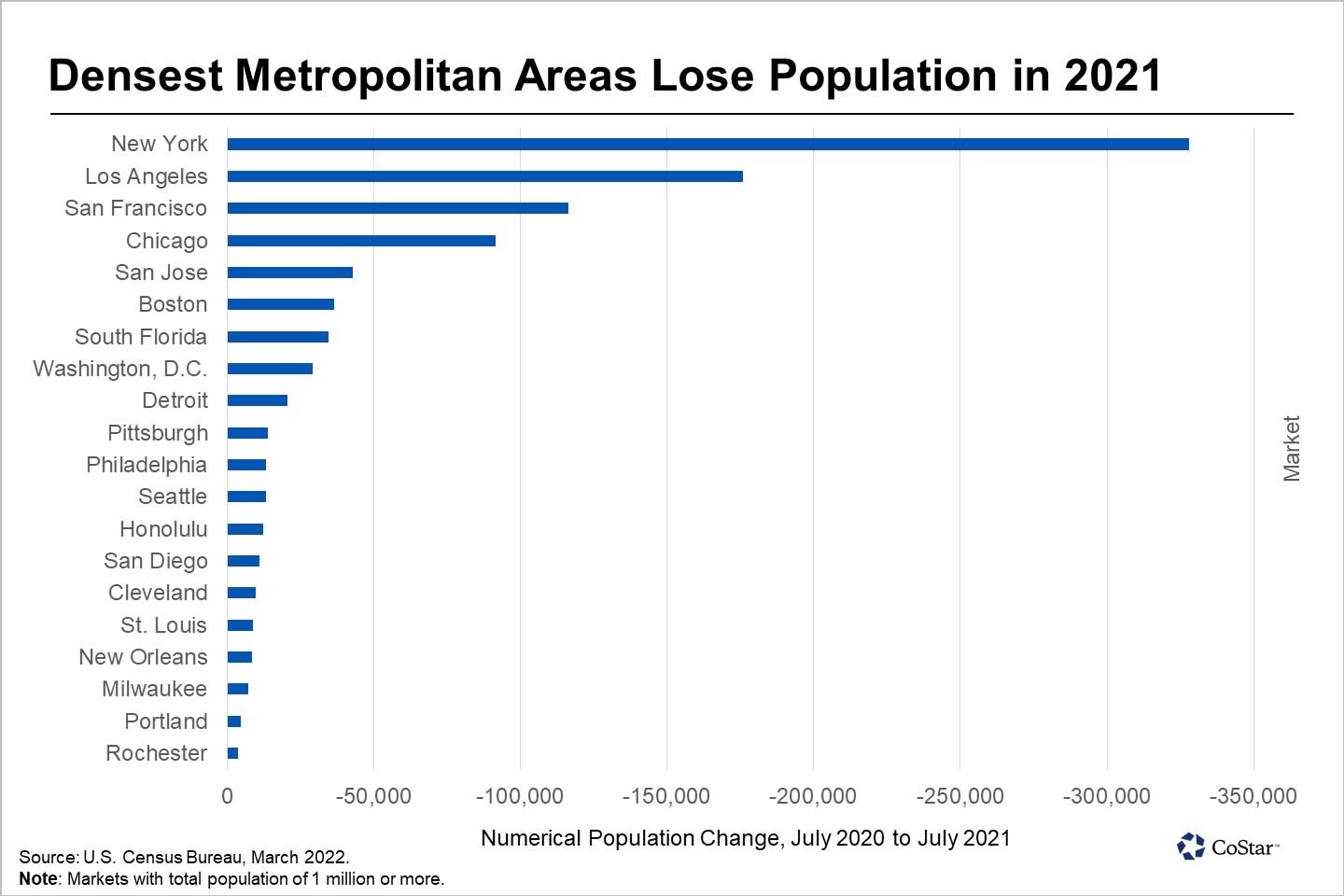 Source: https://product.costar.com/home/news/970075122